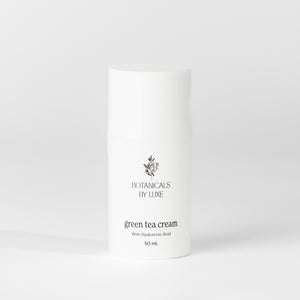 Customer Reviews
12/02/2023
Ash M.

Australia
Green Tea + Hyaluronic Cream
Fixed up my Perioral dermatitis really quickly and has kept it at bay, no flare ups since I started using it
10/02/2023
Erin B.

Australia
Green Tea Cream
Fantastic product, it makes my skin feel lovely and soft.
10/02/2023
Mary-Anne O.

Australia
I'm back!
I've just re ordered the green tea cream after straying from it due to a big Christmas basket of skin care I got. A lot was from Mecca and very good skincare but after returning to the green tea cream in realising that even after 2 weeks my skin feels better. More hydrated and plumped. I won't stray again. Thanks Bec for this amazing skincare.
09/02/2023
Leanne K.

Australia
Just the calm my stormy face needed!
Heavenly. I had just been diagnosed with POD, and my face was particularly angry. After watching Bec's Insta stories on POD, I purchased the products she suggested, and saw relief almost straight away. I'm really grateful for these products and the improvement they've delivered in my skin.
08/29/2023
Lauren

Australia
Best moisturiser ever!!!
I have tried so many skin care brands on the market but this is hands down the best. Every other one has irritated my skin. This makes it so hydrated and is so gentle. Nothing beats it!!! I'll be a customer for life! Thanks Bec for creating such an amazing product.