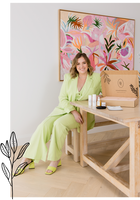 Hello!
Botanicals by Luxe is a professional skin care range formulated by Bec Connolly, a skin therapist with over 17 years experience. 
We are Australian made and owned and proud to be 100% natural and vegan friendly.  No nasties, artificial fragrances or colours.
Our small batch skincare range is ethically made using only sustainable, natural and skin safe ingredients, and is results driven!
We can't wait to hear what your skin thinks
MORE ABOUT US
Testimonials
"My skin is so much smoother and plumper since using Botanicals by Luxe. I'm obsessed! I hardly even wear make up now"

TARA.C (Robe, SA)
"Moisturiser and makeup sat noticeably better after applying the serum. My skin looked glowing which is rare for me. I've already noticed a difference in my skin - it is definetly what I'm missing in my routine. Love it!"

AMANDA. K (Geelong, VIC)
"Bec thank you for creating products to give women more confidence in their own skin"

CELESTE.R (Brisbane, QLD)

As seen on